EarlySail is now able to offer our customers and ISV partners services to enable adoption of Unified Communications in their companies and products.
Gartner defines Unified Communications thus:
Unified communications (UC) offer the ability to significantly improve how individuals, groups and companies interact and perform. UC enables multiple communication channels to be coordinated. Key technologies include Internet Protocol (IP)-PBX, voice over IP (VoIP), presence, e-mail, audio and Web conferencing, videoconferencing, voice mail, unified messaging and instant messaging (IM).

Another key capability of UC is that it offers a method to integrate communication functions directly with business applications; Gartner calls this capability "communications-enabled business processes."
The largest single value of UC is its ability to reduce "human latency" in business processes. Although communication methods (such as voice or IM) can be used individually and separately, organizations should examine how bringing these methods together can increase synergies and efficiencies.
Please contact EarlySail for deployment of Unified Communication products in your enterprise, and acceleration of your business processes that require human response.
EarlySail has just concluded an exciting product offering for a leading TV network and entertainment studio in the US that integrates Web 2.0 practices with multi-media Instant Messaging and Group Chat.
Using nothing else but their web browsers, fans of popular TV shows and movies are able to simultaneously watch online video, chat with each other, and engage celebrities and special guests by means of a moderated Question and Answer session.
Ask us how we can help your company engage your online customers.
Earlysail has just shipped a wireless Instant Messaging client for one of our customers, a leading provider of messaging solutions in the United States.
The development was done using Blackberry JDE version 4.1.0 and is interoperable with all leading XMPP/Jabber servers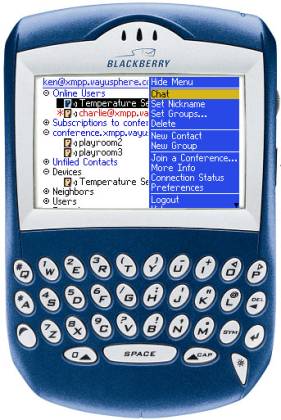 The solution has a server side component that is able to queue messages when the wireless device is out of coverage area
Earlysail has been retained to deliver a presence and skill based routing engine for XMPP/Jabber IM servers.
This Java based solution will be able to forward IM requests to the first available person in a role or department.