Earlysail is pleased to announce our move to new corporate headquarters in New Delhi, India. Please note our updated contact information.
Our new offices are centrally located on Nelson Mandela Road in the Vasant Kunj area of New Delhi, a few kilometers from the Indira Gandhi International Airport and from the city center.
Earlysail is pleased to announce that we have assisted one of our customers in obtaining SAP's prestigious "Powered by NetWeaver" certification.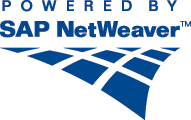 The Java based product was certified to run on the J2EE Application Server, and we also created a Portlet for the SAP Portal server