The EarlySail team is proud to have assisted a key customer's innovation efforts  by assisting in the development of  an Web 2.0 search portal designed to streamline the Real Estate search experience.
IPGA Ltd, owner of Asia's number one network of property portal under the iProperty.com umbrella brand (www.iproperty.com), has launched an ad-free property portal Propertyguru.com.my.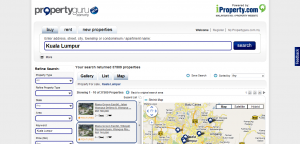 "The site is a combination of clean and uncluttered design coupled with a highly intelligent search engine that makes property hunting a breeze. Its predictive search function suggests addresses, townships, condos and areas with fast search results . Switching between map, gallery and list views, the navigation gives visitors the option to view properties according to their preference. Each property listing also provides  details of nearby schools, transportation and amenities"
Ask us how we can bring your Web 2.0 ideas to life.