The EarlySail team is proud to have assisted a key customer's innovation efforts  by assisting in the development of  an Web 2.0 search portal designed to streamline the Real Estate search experience.
IPGA Ltd, owner of Asia's number one network of property portal under the iProperty.com umbrella brand (www.iproperty.com), has launched an ad-free property portal Propertyguru.com.my.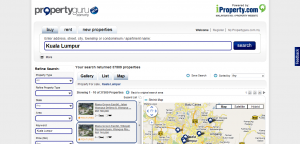 "The site is a combination of clean and uncluttered design coupled with a highly intelligent search engine that makes property hunting a breeze. Its predictive search function suggests addresses, townships, condos and areas with fast search results . Switching between map, gallery and list views, the navigation gives visitors the option to view properties according to their preference. Each property listing also provides  details of nearby schools, transportation and amenities"
Ask us how we can bring your Web 2.0 ideas to life.
EarlySail is proud to announce that a project it delivered for one of its key customers, the REA Group, has been named an "Official Honouree in the prestigious, world-wide 2008 Webby Awards for excellence in websites
property.com.au, the Australian real estate website where the REA Group (ASX: REA, realestate.com.au Ltd and its subsidiaries) tests innovative new technologies and design, has been named an Official Honouree in the prestigious, world-wide 2008 Webby Awards for excellence in websites. It is the only Australian real estate website and one of the very few Australian websites of any kind to be given this distinction.
The "Oscars of the Internet" is what The New York Times called the Webbys.
Harvey Weinstein, Jamie Oliver, David Bowie, Arianna Huffington, father of the internet Vinton Cerf and others from the International Academy of Digital Arts & Sciences selected the Award Honourees, and they will select the winners from among the 8,000 entries from 60 countries.
David-Michel Davies, executive director of The Webby Awards, said:
"property.com.au's Official Honouree selection is a testament to the skill, ingenuity, and vision of its creators at the REA Group.
Shaun Di Gregorio, General Manager, Asia Pacific of the REA Group said:
The Webby Awards have honoured our commitment to driving leads to agents and to serving real estate consumers through the use of innovative design and technology. One sign of our dedication to agents is that we put their listings on the award-winning property.com.au at absolutely no charge.
Simon Baker, CEO and Managing Director of the REA Group said:
We apply the lessons we learn from this beta site to our largest website, realestate.com.au, and to the other 18 sites we operate around the world.
The real estate website was selected for this distinction from among the more than 8,000 entries. Fewer than 15 percent of all entries were good enough to be named Official Honourees.
property.com.au is still in the running to win the Webby Award itself when final winners are announced on May 6, 2008. The other Official Honourees in the 2008 Webby Awards real estate category are:
One New Change

Piccadilly Lights
Pug – The People's Choice Awards 2007
World Trade Center

Yahoo! Real Estate
EarlySail has just concluded an exciting product offering for a leading TV network and entertainment studio in the US that integrates Web 2.0 practices with multi-media Instant Messaging and Group Chat.
Using nothing else but their web browsers, fans of popular TV shows and movies are able to simultaneously watch online video, chat with each other, and engage celebrities and special guests by means of a moderated Question and Answer session.
Ask us how we can help your company engage your online customers.