EarlySail is pleased to announce that over 500,000 users have installed our application, making it one of the more popular applications for the BlackBerry
You always suspected that you were in love with your BlackBerry, but you may be surprised at how and when you actually use it.
Are you a casual user or are you a BlackBerry Addict ? Prepare to find out with EarlySail's free "I Love BlackBerry" application.
The application will show your usage during work hours and during nights and weekends. It organizes your daily, weekly, monthly usage for the current month as well as displays long term averages.
You can share your usage via email with a friend for now, and the next generation of this application will let you compare your usage with that of your friends and colleagues.
The application counts your usage on the phone as active time, therefore when prompted you should grant access to this application to use the phone api on your BlackBerry device.
Download EarlySail's I Love BlackBerry application (No Longer available)

See Also: EarlySail BlackBerry News Reader
See Also: EarlySail BlackBerry Jump Start Program
EarlySail JumpStart Program for RIM BlackBerry Application development is a packaged service to ISVs and System Integrators who need help getting started with their application development.
Although most mobile platforms provide IDEs to create basic applications, any real-life mobile application must account for
Vagaries of the wireless networks
Battery, CPU, Screen real-estate and Bandwidth constraints
Usability issues and seamless user experience using device specific native UIs, navigation techniques, persistence, and boot-up behavior .
Finally, the enterprise oriented developer must understand the difference in use of BlackBerry Enterprise Server/MDS vs. Carrier gateways as well as deployment and security models
EarlySail has developed a reference architecture and a software platform for development of robust and scalable enterprise applications on the BlackBerry. Products based on this architecture include instant messaging clients, RSS news readers, Urgent Messaging applications for Business Continuity and Time Tracking applications that are in use in over 50 large customers.
The JumpStart program offers consulting, architecture analysis, and prototype code as required. EarlySail also offers full life cycle product development for BlackBerry and other mobile platforms.
Contact us to jump start your BlackBerry application development efforts.
Earlysail is busy delivering a product for one of our customers that will enable optimized access to RSS/Web Feed Aggregators from a Blackberry device. The product will have attention management features and end user activity on the mobile device will be synchronized with similar activity from other devices.
Users on mobile devices can be alerted when new items appear on subscribed feeds.
Earlysail is busy delivering a product that enables our customers to publish urgent bulletins using mobile devices while they are out in the field. This product will be supported on the RIM Blackberry, several Pocket PC based devices, and the Palm Treo.

The solution makes extensive use of xHTML. Authentication is provided using SSO (single sign-on). An audit trail is provided for compliance reasons. Key features include robustness, and real-time feedback of the bulletin's delivery and subsequent tallying of read-receipts from targeted end users who may be wired or wireless.
All this in a few seconds from the publisher's mobile device! Ask us how we can make your field communications faster and your staff more productive
Earlysail has just shipped a wireless Instant Messaging client for one of our customers, a leading provider of messaging solutions in the United States.
The development was done using Blackberry JDE version 4.1.0 and is interoperable with all leading XMPP/Jabber servers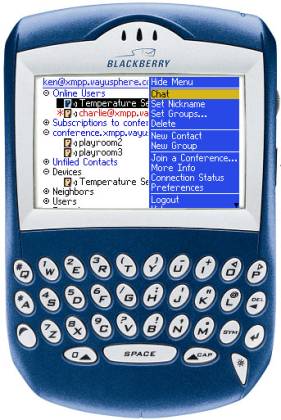 The solution has a server side component that is able to queue messages when the wireless device is out of coverage area