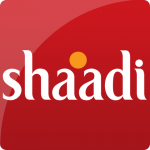 EarlySail is pleased to have developed for People Group and Research in Motion, the Shaadi.com Super App for the BlackBerry platform.  Ask Us how we can develop your Super App today!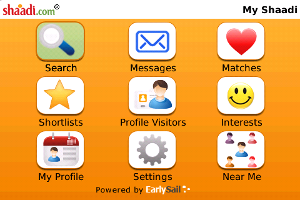 Browse over 20 million profiles to find your life partner on Shaadi.com! Search and view profile details. Express interest in profiles. View latest matches. Upload pictures. Search for members in your vicinity.
The application is available for free download  in the BlackBerry App World.

The EarlySail team is proud to have assisted a key customer's innovation efforts  by assisting in the development of  an Web 2.0 search portal designed to streamline the Real Estate search experience.
IPGA Ltd, owner of Asia's number one network of property portal under the iProperty.com umbrella brand (www.iproperty.com), has launched an ad-free property portal Propertyguru.com.my.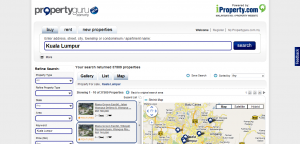 "The site is a combination of clean and uncluttered design coupled with a highly intelligent search engine that makes property hunting a breeze. Its predictive search function suggests addresses, townships, condos and areas with fast search results . Switching between map, gallery and list views, the navigation gives visitors the option to view properties according to their preference. Each property listing also provides  details of nearby schools, transportation and amenities"
Ask us how we can bring your Web 2.0 ideas to life.
EarlySail is pleased to support the virtual launch of Microsoft Office Communications Server (OCS) 2007 Release 2 .
The Office Communications Server 2007 R2 will launch in a worldwide online event Feb. 3, 2009. Those interested can register to participate in the launch here.
At EarlySail, we are looking forward to the launch of Office Communications Server 2007 R2 and to being able to deliver the expanded Unified Communications capabilities to our customers.
EarlySail is pleased to announced that it has fulfilled the qualifications necessary to achieve Voice specialization within the Microsoft Unified Communications competency.
In the process, EarlySail has become the first company in India to earn this competency.
Earning the Unified Communications competency Voice specialization requires the completion of competency testing and a rigorous technical readiness program that includes specific staffing requirements and an internal deployment of the complete Microsoft Unified Communications offering.
EarlySail is now qualified by Microsoft to deploy Microsoft unified communications technologies such as Microsoft Exchange Unified Messaging and Microsoft Office Communications Server 2007, including VoIP and audio-, video-, and Web-conferencing.
Ask us how we can help your company deploy Microsoft's latest unified communications technologies and create more productive business processes.
What will the Enterprise of the Future look like? To answer that question, IBM and the Economist Intelligence Unit spoke with more than 1,000 CEO's from around the world.
These findings across industries, geographies and organizations of different sizes paint a similar view of the traits that we believe will be needed for future success.
In its executive summary, the study notes that at its core, the Enterprise of the Future is
Hungry for Change
The Enterprise of the Future is capable of changing quickly and successfully. Instead of merely responding to trends, it shapes and leads them. Market and industry shifts are a chance to move ahead of the competition.
Innovative Beyond Customer Imagination
The Enterprise of the Future surpasses the expectations of increasingly demanding customers. Deep collaborative relationships allow it to surprise customers with innovations that make both its customers and its own business more successful.
Globally Integrated


The Enterprise of the Future is integrating to take advantage of today's global economy. Its business is strategically designed to access the best capabilities, knowledge and assets from wherever they reside in the world and apply them wherever required in the world.

Disruptive By Nature
The Enterprise of the Future radically challenges its business model, disrupting the basis of competition. It shifts the value proposition, overturns traditional delivery approaches and, as soon as opportunities arise, reinvents itself and its entire industry.
Genuine, Not Just Generous
The Enterprise of the Future goes beyond philanthropy and compliance and reflects genuine concern for society in all actions and decisions.
EarlySail can help your organization leverage talent available in the global economy, as well as provide specialized skills needed for the technology differentiation your products and services need to compete.
EarlySail is proud to announce that a project it delivered for one of its key customers, the REA Group, has been named an "Official Honouree in the prestigious, world-wide 2008 Webby Awards for excellence in websites
property.com.au, the Australian real estate website where the REA Group (ASX: REA, realestate.com.au Ltd and its subsidiaries) tests innovative new technologies and design, has been named an Official Honouree in the prestigious, world-wide 2008 Webby Awards for excellence in websites. It is the only Australian real estate website and one of the very few Australian websites of any kind to be given this distinction.
The "Oscars of the Internet" is what The New York Times called the Webbys.
Harvey Weinstein, Jamie Oliver, David Bowie, Arianna Huffington, father of the internet Vinton Cerf and others from the International Academy of Digital Arts & Sciences selected the Award Honourees, and they will select the winners from among the 8,000 entries from 60 countries.
David-Michel Davies, executive director of The Webby Awards, said:
"property.com.au's Official Honouree selection is a testament to the skill, ingenuity, and vision of its creators at the REA Group.
Shaun Di Gregorio, General Manager, Asia Pacific of the REA Group said:
The Webby Awards have honoured our commitment to driving leads to agents and to serving real estate consumers through the use of innovative design and technology. One sign of our dedication to agents is that we put their listings on the award-winning property.com.au at absolutely no charge.
Simon Baker, CEO and Managing Director of the REA Group said:
We apply the lessons we learn from this beta site to our largest website, realestate.com.au, and to the other 18 sites we operate around the world.
The real estate website was selected for this distinction from among the more than 8,000 entries. Fewer than 15 percent of all entries were good enough to be named Official Honourees.
property.com.au is still in the running to win the Webby Award itself when final winners are announced on May 6, 2008. The other Official Honourees in the 2008 Webby Awards real estate category are:
One New Change

Piccadilly Lights
Pug – The People's Choice Awards 2007
World Trade Center

Yahoo! Real Estate
EarlySail is looking for talented developers in the following areas:
Java-based messaging servers
Rich Internet Applications in Ajax and Flash/Flex for collaboration.
Desktop Applications in Delphi
Perl for highly scalable web site development
Please look at our Careers Section – and contact us if you like to be challenged.
Earlysail is pleased to announce that it moves from strength to strength as it celebrates another anniversary on Oct 28, 2006.
To accommodate continuing growth, Earlysail is doubling its office capacity in our New Delhi, India offices.
Stay tuned for announcements establishing local project management offices in UK and Australia in the coming year. This adds to similar, existing capabilities in United States.
We are continuously hiring – if working for a product development company whose projects are being actively used by the who's who of Wall Street firms and Internet media companies excites you – send us your resume.
Earlysail is pleased to announce our move to new corporate headquarters in New Delhi, India. Please note our updated contact information.
Our new offices are centrally located on Nelson Mandela Road in the Vasant Kunj area of New Delhi, a few kilometers from the Indira Gandhi International Airport and from the city center.